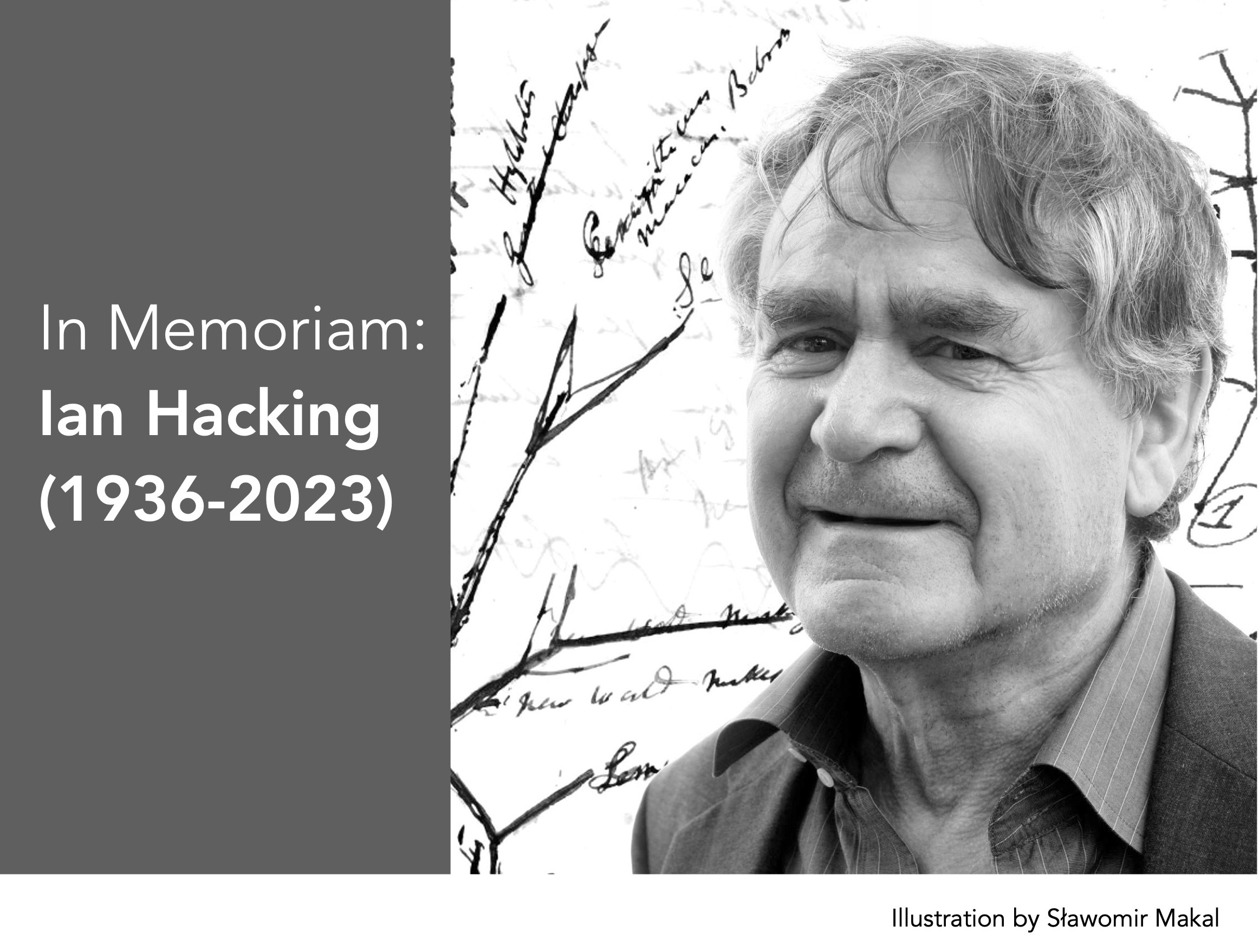 It is with great sadness that the Institute for the History and Philosophy of Science and Technology (IHPST) mourns the passing of Professor Emeritus Ian M. Hacking. During almost two decades, Professor Hacking was one of the most eminent members of the IHPST and one of the most influential figures in the field. He passed away on May 10, 2023.
Born in 1936 in Vancouver, Hacking pursued an undergraduate degree in mathematics and physics at the University of British Columbia before moving on to the University of Cambridge, where he received a BA and a PhD in Moral Sciences in 1958 under the direction of Casimir Lewy. His profound, creative, and deeply influential contributions spanned history of science, philosophy of science, philosophy of probability, philosophy of math, philosophy of language, and science and technology studies. From early work on probability and the logic of statistical inference, he moved into historically-inflected investigations of the human sciences, social construction, and historical ontology —  an approach he defined, and which characterized his prolific writing in thirteen books and hundreds of articles. His work and thought deeply shaped a generation of scholarship in history and philosophy of science and related areas.
His career spanned teaching positions at numerous institutions, including the University of British Columbia; Makerere University College, Uganda; Cambridge University; and Stanford University, where he formed a pillar of the "Stanford School" of Philosophy of Science. From 1983-2000, he taught at the University of Toronto where he was a faculty member at IHPST and the Department of Philosophy. In 1991, he was appointed University Professor and in 2000, he was elected to a permanent position at the Collège de France — where he held the Chair in the Philosophy and History of Scientific Concepts until his retirement in 2006 — the first ever Anglophone elected to that body.
Hacking's influential scholarship was recognized with numerous awards, including Guggenheim and Killam fellowships. He was elected as a fellow of the Royal Society of Canada, the British Academy, and the American Academy of Arts and Sciences. In addition to receiving the Holberg International Memorial Prize and the Balzan Prize, his contributions were recognized by the Canada Council for the Arts, who awarded him the Isaak Walton Killam Prize; and by the Social Sciences and Humanities Research Council of Canada, who awarded him their Gold Medal.
His passing is an enormous loss to his many family, friends, and colleagues. It is also an enormous blow to the field he helped shape. Our deepest condolences go out to his family and friends, and to everyone his life and scholarship touched.
Categories